Why changing your SEO plugin from Yoast SEO to The SEO Framework?
The SEO Framework plugin has started to gain popularity. This is a plugin that "delivers results" as they boldly state and they also pride themselves in being the fastest SEO plugin.
According to their statement, the SEO Framework Plugin appears to be 2.3x faster than SEOPress, 5.3x faster than All in One SEO Pack, 9.6x faster than Rank Math and 30x faster than Yoast SEO. And though these numbers are admittedly impressive, users are often reluctant and hesitate to switch to a different plugin. This could be because users often believe that switching plugins mean that they will need to redo their website's SEO from scratch. Understandably, this discourages them from attempting to switch plugins.
Migrating data and settings from one plugin to another is usually either impossible or ends with unsatisfying results. Different plugins store and manipulate data in a different way, and, in most cases, one plugin's data is a meaningless pile of bytes which cannot be used by another plugin. This is often the case with page builders, as they are rarely compatible with each other. Luckily, this is not the case with the SEO Framework.
If you use Yoast SEO and wish to switch to SEO Framework, you're in luck. As we have created a step-by-step, detailed article providing you with vital information and the steps you need to take to switch from Yoast SEO to SEO Framework.
This Yoast SEO to SEO Framework migration guide will provide information on the following:
How to migrate your SEO metadata from Yoast SEO to SEO Framework.
Which data the plugin can transfer
Which data the plugin cannot transfer
Migrating the SEO metadata from Yoast SEO to SEO Framework
In order to transfer the SEO metadata from Yoast SEO to SEO Framework, you need to use another plugin called SEO Data Transporter. Keep in mind that you have to install and activate all 3 plugins in order to proceed. We strongly suggest creating a backup of your site (or at least creating a backup of the database).
So let us go over the process step by step.
If you haven't done so already, log in to your wp-admin dashboard, click on 'Plugins -> Add New' and install and activate the SEO Framework Plugin. Repeat the process to install the SEO Data Transporter plugin.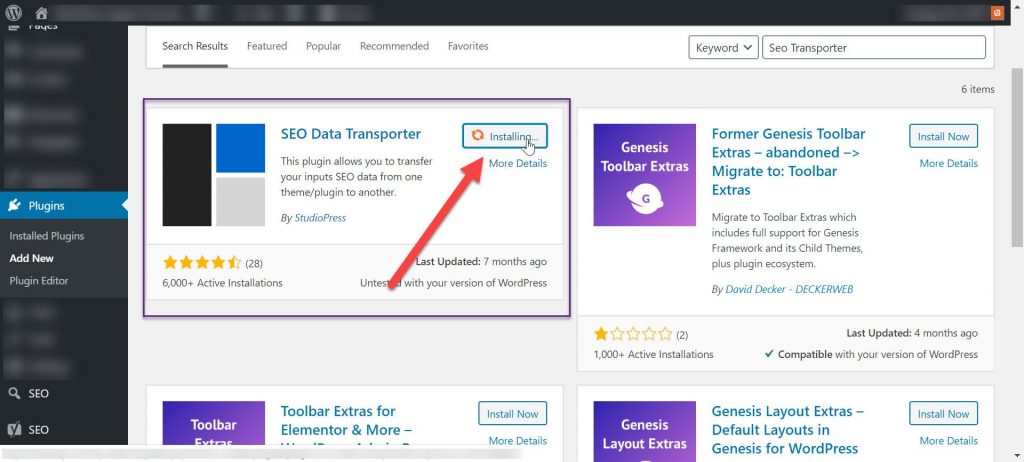 Next, locate the 'Tools' menu item in the wp-admin sidebar and click on the 'Convert SEO Data' subitem.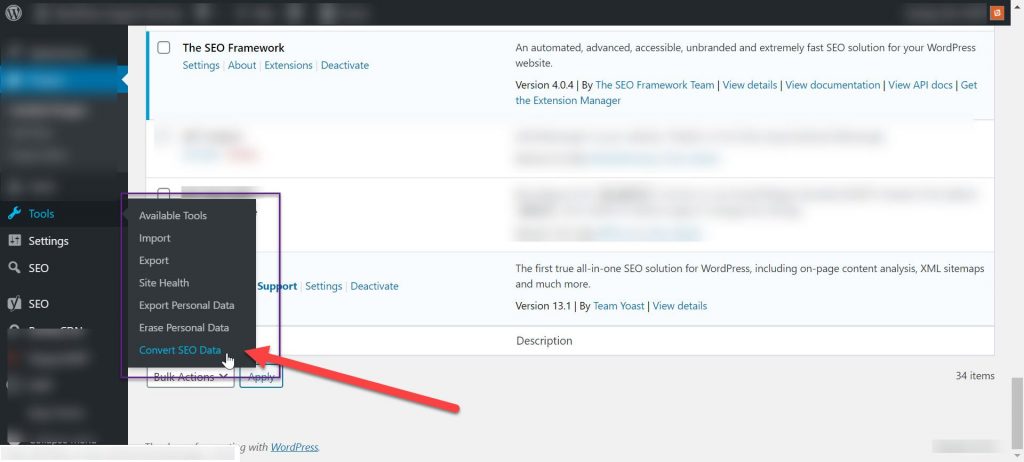 This will take you to the SEO Transporter page where you should choose the plugin from which you are transporting and the plugin to which you are transporting. You can click 'Analyze' which will show you how many database records are compatible and can be transported.
Afterwards, click on 'Convert'.
That's it. You've successfully transferred your data from the Yoast SEO plugin to SEO Framework. Once the data transfer is completed it is advisable that you deactivate the Yoast SEO so as to avoid any conflicts with the SEO Framework plugin.
Since these two plugins have the same functionality, leaving them both active is anything but a good idea. After the data transfer, you should not delete the Yoast SEO though, as you might need it. You can always revert the changes you make especially if for some reason you are not satisfied with the SEO Framework and in that case, it would be best to restore a backup.
Since the SEO Data Transporter plugin cannot transfer all of the SEO metadata, you will have to make some adjustments manually. This shouldn't take a lot of time and there are known issues and bugs that may occur, which by the way you can fix easily yourself.
Which data is migrated from the Yoast SEO to The SEO Framework?
The SEO Data Transporter migrated the following data:
Meta Titles
Meta Descriptions
Robots meta settings ('noindex','nofollow' and 'noarchive')
Custom redirect URLs
Custom canonical URLs
SEO Data Transporter plugin collects data from all posts, pages and custom post types. WooCommerce products are also custom post types, so the plugin will collect data from them as well.
The above-mentioned data is considered to be of importance in Search Engine ranking. There are, of course, limitations to what the plugin can do and, therefore, some data will not be transferred.
Which data cannot be migrated from Yoast SEO to The SEO Framework?
The SEO Data Transporter will not transfer Social metadata, specifically, the Open Graph and Twitter metadata. These dictate how your article is going to look like when you or someone else shares it on social media (including thumbnail, title, etc).
The authors of the SEO Framework claim that the plugin will fill in these fields 'automagically'(that's a direct quote).
You will also have to check your custom meta titles. It is possible that the site/blog name will be added to the custom meta tag. You will have to manually correct these.
You will also have to adjust categories and tags. However, these do not carry much weight in Google Search results, therefore, you might not need to do it right away.
It is also worth noting that the SEO Framework plugin has unique fields that other plugins don't use. Thus, you will not be able to transfer these from the SEO Framework to a different plugin you might want to try out. These fields are:
Article Type Selection
Multiple Focus Keywords
Archive Exclusion Options
Some more info about switching Yoast SEO to The SEO Framework plugin
Last but not least, let us share one more piece of knowledge with you – you will not be able to transfer the Yoast SEO plugin settings. Although both plugins work towards helping your website achieve better search engine ranking, they use different methods and operate in a completely different way. Therefore, transferring the settings of the Yoast SEO plugin is not possible and thus, not an option.
There is a very useful tutorial on how to set up the plugin in 5 minutes which is available on this page. This plugin does come preconfigured and it is AI-driven but it will not fill out everything by itself.
It is also worth mentioning that you can use the SEO Data Transporter with other plugins besides Yoast SEO (like All In One SEO Pack and SEO Ultimate).