Is Your WordPress Site Hacked?
If you are not an expert at cleaning a WordPress site or you don't have the time for it you can take a look at our WordPress Hack Fix Services and get your site clean in 24 hours or less. Every cleaned site is granted a 3-month guarantee. If it gets hacked again in 3 months we will clean your site again at no extra cost.
What will happen if I don't clean my hacked WordPress site?
Siteground is the hosting home for tens of thousands WordPress sites. No wonder many of our clients who are asking to clean their WordPress sites are using Siteground as their hosting provider.
This doesn't mean that Siteground is a bad or unsafe hosting provider; many WordPress sites get hacked daily and if your hosting provider is able to notice a hack then its a good thing for you because they will give you a heads up in order to remove all malware from your WordPress site before you end up on Google's blacklist.
If you don't remove the malware from your WordPress site or don't do a proper WordPress malware cleaning then your site will stay offline indefinitely while you continue paying your monthly hosting fees to Siteground. Eventually, they may even suspend your account permanently while at the same time Google will have de-listed your WordPress site from its index completely.
Your site has been hacked warning
Siteground runs daily malware scans of the WordPress sites they host so once they find a hacked site they immediately shut it down and send an email to the Siteground user about the hack.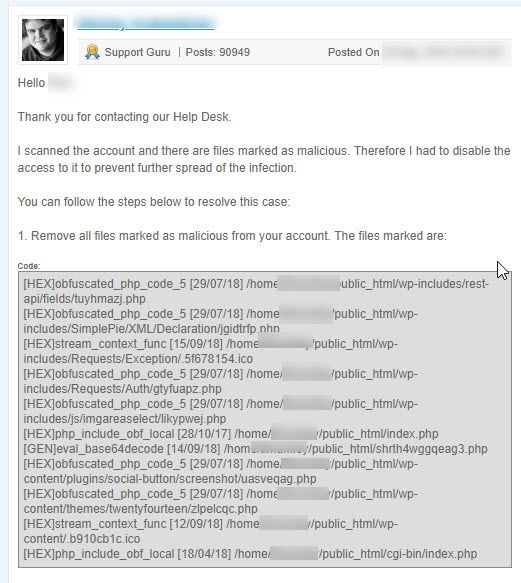 On your end, you will notice that your site has been suspended and parked in "The web service to this account has been limited temporarily" space.
Whitelist your IP
If you ever find yourself in this position, the first thing to do is to create a ticket with Siteground (in case they didn't create one already) and ask to whitelist your IP so you can start working on cleaning up your WordPress website. You can also try to add the following code snippet inside your .htaccess file using the File Manager editor:
allow from you.ip
Remove WordPress Malware
Once you have removed all of the malware then you can ask Siteground support using the same support ticket to re-scan your website. In a few minutes, they will run a new scan and inform you of the results. If the site is clean they will re-activate your site right away.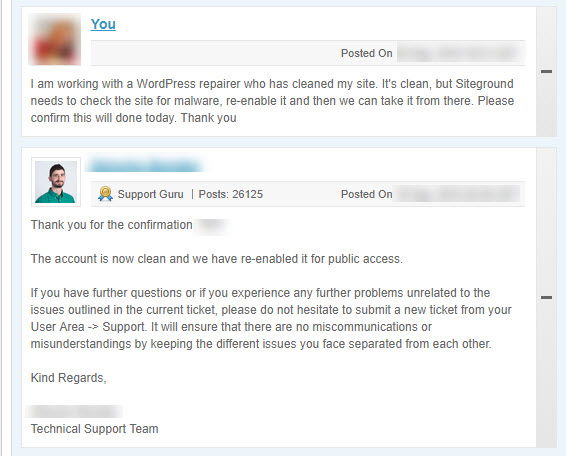 Clean all WordPress sites hosted under your Siteground account
If you have more than one WordPress site hosted under the same hosting account then you should clean all other sites as well or else they will re-infect your clean one in no time. If some of those are not live anymore(demo sites or staging sites) you can back them up, download them to your pc and then delete the site files and its database from your Siteground hosting account.