Setting up a WordPress website is easy to do, even if you have no experience. On the other hand, moving your site from one place to another can be a major headache, even if you do know what you're doing.
There are many reasons why you might need to migrate your WordPress website. For example, maybe you're moving it from local development to a production server, or copying it from your server to place on a client's server. Or, maybe you're changing web hosts, need to create a copy for an upcoming project, or just need a backup of your site.
No matter the reason, the important thing is that there are no mistakes made during the move that affect the design, functionality, and content of your site. And while manually migrating a website is doable, it's time-consuming and puts you at risk for making irreparable mistakes.
If you want to save yourself the stress of manually migrating your WordPress website, try using a WordPress migration plugin or service instead. These solutions make website migration, cloning, database moves, and backups seamless. They also prevent data loss and give you a faster, better way to move entire websites – without error.
Take a look at this roundup of the highest-quality WordPress migration plugins and services in the market to date and enjoy the convenience they provide when it comes to moving your site.
WordPress Migration Plugins
There are plenty of free and premium WordPress migration plugins in the market to help you copy, backup, migrate, and clone your website.

Duplicator is by far one of the most favored migration plugins to date. It helps with not only migrating your WordPress site, but copying, moving, cloning, and creating backups, making it a flexible solution. This is probably why it boasts 4.9 out of 5 stars and has over 1 million active installations.
This migration plugin bundles your site's plugins, themes, content, database, and WordPress files into a neat little zip file called a package. This process is what makes moving your site so easy.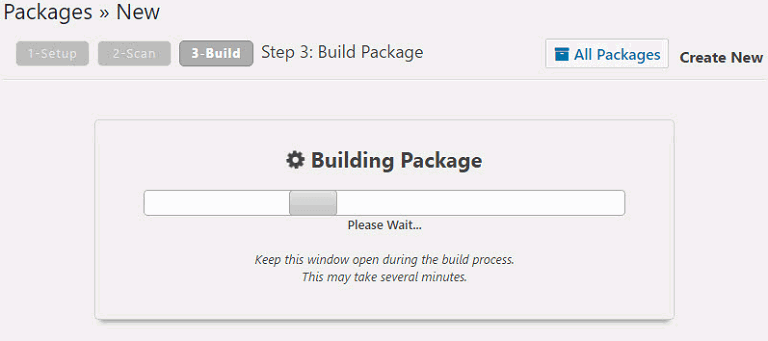 When you have your site all packages up, all you have to do is upload it to your new server and let Duplicator set everything up for you. That said, this plugin does require that you have a little bit of technical knowledge. If this worries you, you should look into a more user-friendly solution.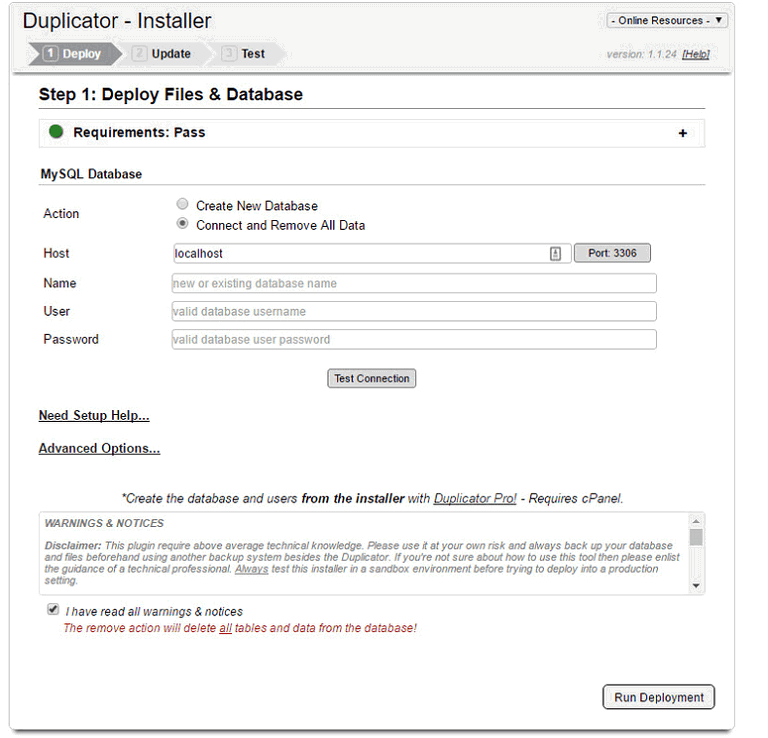 Duplicator is a free WordPress migration plugin that will get the job done for you. However, the pro version of this plugin does offer features such as:
Automatic backups and cloud storage (Dropbox, Google Drive, Amazon S3, and more)
Multisite migrations
Connection to the cPanel from installer
Email notifications
Multi-threaded to support large sites and databases
Professional support
Price: FREE (pro version starts at $59)

The WP Migrate DB plugin makes the hardest part about migrating your WordPress site, moving the database, easier. It exports your WordPress database as a MySQL data dump, runs a find and replace function on URLs and file paths, and handles serialized data before saving as an SQL file.
From there, you'll need to import the SQL file to your database, replacing the existing one. It also gives users more control over migration and backups, rather than just making a simple clone of the original site.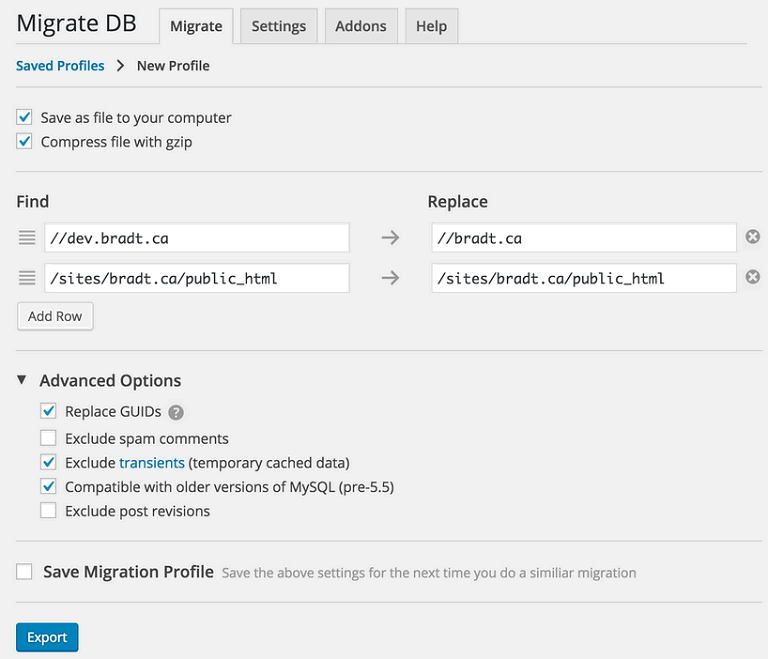 If this sounds kind of complicated, that's because it is. Because of that, this migration plugin is best suited for developers that need to migrate sites from production sites to local installs or locally developed sites to staging or production sites. Additionally, this plugin is based solely around moving your database. If you need a solution that does everything for you, you'll need to look elsewhere.
The pro version of this plugin has features like the ability to push and pull databases, database backups prior to migration, migration pause and resume functionality, multisite migrations, and priority email support.
Price: FREE (pro version starts at $99)

UpdraftPlus is a simple backup and restore plugin. All you have to do is manually backup your site or schedule automatic backups and let the plugin save your site in the cloud (Dropbox, Google Drive, email, Amazon S3, and more). When you need to restore your site, all it takes is one click.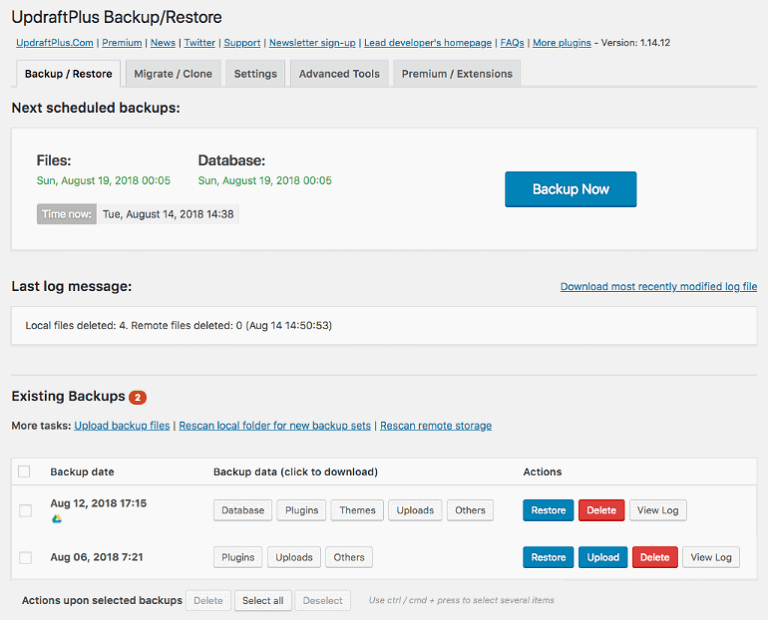 If you want to migrate your site using UpdraftPlus, you'll need to either upgrade to the premium version of this plugin or purchase the separate UpdraftPlus Migrator plugin. If you upgrade to UpdraftPlus Premium, you'll get the Migrator Add-On as well as features like:
Incremental backups
Advanced reporting
Database encryption
Multisite support
Easy duplications and migrations
Additional cloud storage options
With the UpdraftPlus Migrator Add-On, you'll be able to clone and migrate unlimited WordPress sites, access database tools to remove mentions of your old website from the database, and receive 12 months of priority support.
Price: FREE (UpdraftPlus Premium starts at $70, Migrator Add-On starts at $30)

All-in-One WP Migration is a free WordPress migration plugin that is designed to help you move your site to a new server or domain name. It moves the database, media files, plugins, and themes, and requires zero technical knowledge making it one of the most user-friendly migration solutions on this list. There's also a neat find and replace database feature that makes it easier to repair broken files and links after the move.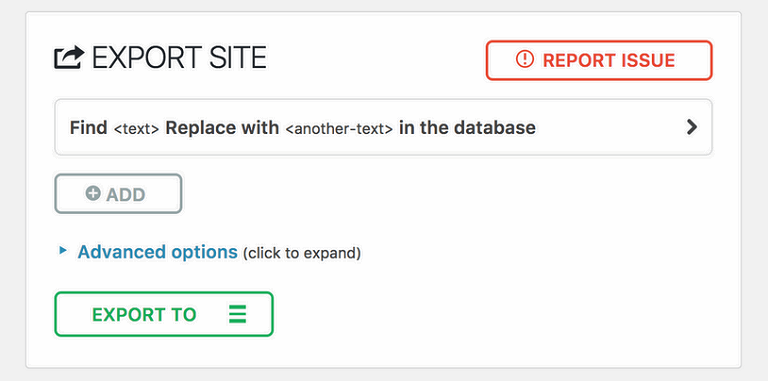 This comprehensive solution comes with the ability to:
Work on all web hosting platforms and operating systems
Bypass all upload restrictions set by hosting providers by importing/exporting in time chunks
Function regardless of PHP version (2 and higher)
Support MySQL and MySQLI
Backup and migrate site via mobile device
There are premium extensions you can use to extend your migration abilities such as Dropbox storage, Multisite support, unlimited import sizes, FTP export/import, and more.
Price: FREE (premium extensions vary in price)

BackupBuddy is the only WordPress migration plugin on this list that isn't free. However, that doesn't mean it doesn't come with it's fair share of features. Not only does it give website owners an easy way to schedule daily, weekly, or even monthly backups, because of the way it backs sites up, migration is easy too.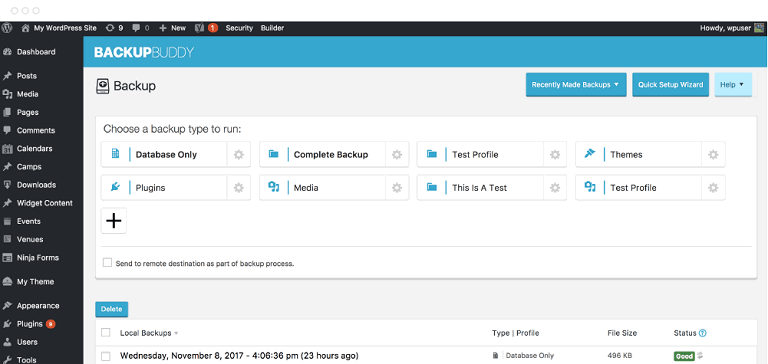 This simple plugin backs up your entire WordPress installation so you have a copy of your database and WordPress files and puts it into a convenient zip file. This file can then be saved to your favorite off-site cloud storage, including Amazon S3, BackupBuddy Stash, Dropbox, and more. In addition, you can have your backups sent straight to you email.
With BackupBuddy, you also get these amazing features:
Easy site restore
Customizable backups
Email notifications
Free malware checks
Built-in server tools for detecting hosting issues
Interactive site directory map
Database scanning and repair
Customizable backup storage limits
Price: Plans start at $80
WordPress Migration Services
If you don't want to install another plugin on your website, or need help with migrating your site, there are several reputable WordPress migration services you can use.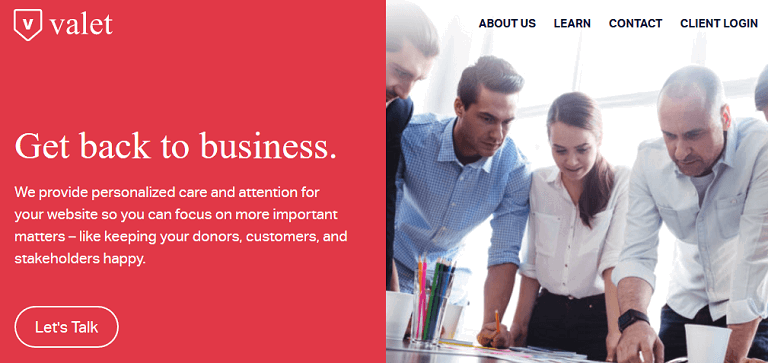 Valet.io is a high-level WordPress migration service that can handle websites of all kinds and sizes. In addition to helping you with hosting and site migrations, they provide professional level support when it comes marketing, speed optimization, usability, and site security.
Take a look at some of Valet.io's best services:
A/B testing
SEO optimization
Content marketing
eCommerce shop and product support
Site design and development
This solution is perfect for those that need professional migration services and help with other WordPress related projects.
Price: Must contact for more information

AccessWP provides WordPress users with unlimited WordPress support for a monthly fee. For example, you can have the experienced team of U.S based developers help with things like:
Web maintenance
Speed optimization
Web design
SEO optimization
Site security
Emergencies
Conversion optimization
Of course, migrating your WordPress website is included in this long list of tasks that you get with AccessWP. The point is, once your site is moved, AccessWP provides other services to help you continue growing your blog or online website.
Price: Plans start at $99/month
We would be remiss not to mention our own WordPress support services in this roundup of WordPress migration services: WPRepublic. As a WordPress support Agency specializing in security audits and malware removal, we also pride ourselves in providing additional WordPress services such as:
SSL certificate set up and conversion from HTTP to HTTPS
Content creation and updates on both posts and pages
Plugin, theme, and content migration when you decide to use Gutenberg
Website cloning from HTML, Joomla, Drupal, PHP, .NET, and static sites
Web maintenance: site backups, updates, security checks, monthly reports, site repairs, speed optimization, and spam removal
Lastly, we do WordPress site migrations from old hosts to new and non-WordPress sites to WordPress ones. Each site migration comes with one month of support, page and post moves, theme migrations, menu and image migrations, onsite SEO setup, SEO permalink setup, spam protection, and 302 redirects. And to top it off, all work is done in our own hosting environment before the migration to reduce error and ensure a seamless move.
Price: Must contact for more information for a site migration (maintenance plans start at $19/month)
And there you have it! Some of the most reliable WordPress migration plugins and services available to WordPress users today. The solution you choose will depend on your budget and individual needs. But with a little research, you'll find the plugin or service that will help you migrate your WordPress website with ease.