WordPress above all is an ecosystem where everyone can easily enter and start learning from day one. There is so much information on the web regarding WordPress that a newbie may have a hard time finding a worthy WordPress resource website.
This blog post will feature 20 of the promising WordPress blogs to follow in 2019. We tried to go out of the ordinary route because we wanted to show new WordPress resources or ones which weren't well known. Being a relatively new WordPress service ourselves we know that is very hard to be heard so we didn't want to recycle WordPress blogs which were mentioned by hundreds of other similar posts.
The following Top 20 WordPress Blogs list for 2019 was manually curated after 3-month research and monitoring, we sincerely hope that both our readers and the WordPress Blogs featured in this list will benefit from it by closing the communication gap between them.
Even though we gathered more than 100 WordPress blogs to examine it seems that the ones that made to our Top 20 list are those which we learned about in our first two weeks of research. Each WordPress Blogging Resource is reviewed based on their quality content, authority, how often they publish new blog posts and their ability to offer new ideas in the WordPress ecosystem.
Our Top WordPress Blogging Review features the following 3 sections
Information about the WordPress Blog Resource.
What we liked about their WordPress posts.
Feedback in things we didn't like and are in need of improvements.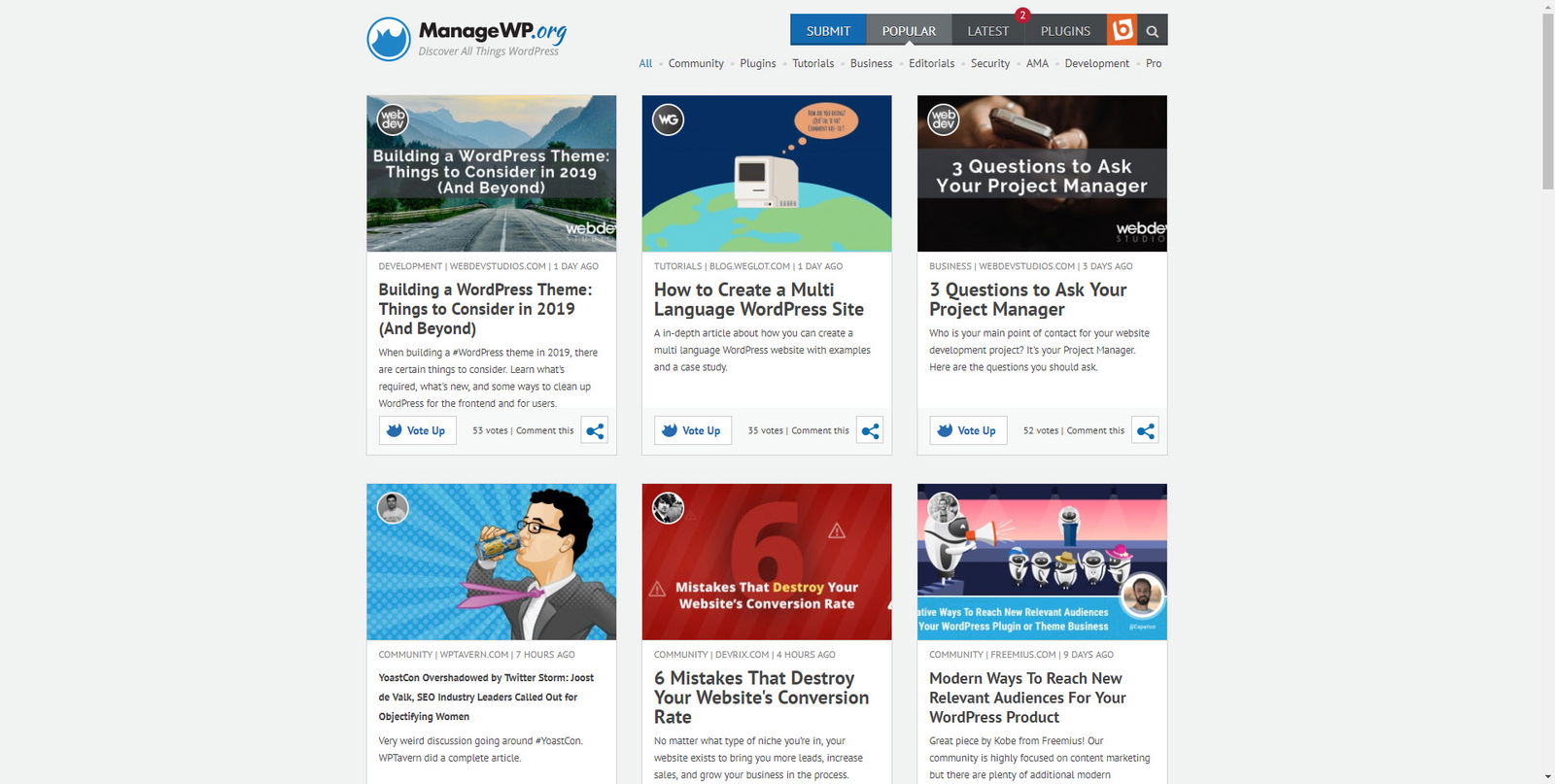 ManageWP is a feed service for WordPress blogs. Members can discuss or vote on WordPress stories or search for answers to specific issues. Or just browse, looking for inspiration.
This is a great resource. Say you're starting a WooCommerce store on WordPress. Doing a search on WooCommerce leads you to a variety of tutorials and recommendations. Or just hit the home page and randomly browse. You'll walk away with several new ideas on things you could implement.
I can't say that I'm a fan of the voting. Voting, in general, is often gamed in some way.
I just love well put together guides. And that's exactly what First Site Guide is all about. Depending on what I need to learn, sometimes text is a better alternative to video. And you can find what you need on the page quicker as well.
These guides are clear and concise, and they kept up-to-date. So you don't have to worry that what you're being taught to do is for an older version of WordPress and might break your newer version. Do you know what the problem is with this blog? There isn't enough of it. They could have guides on many more things!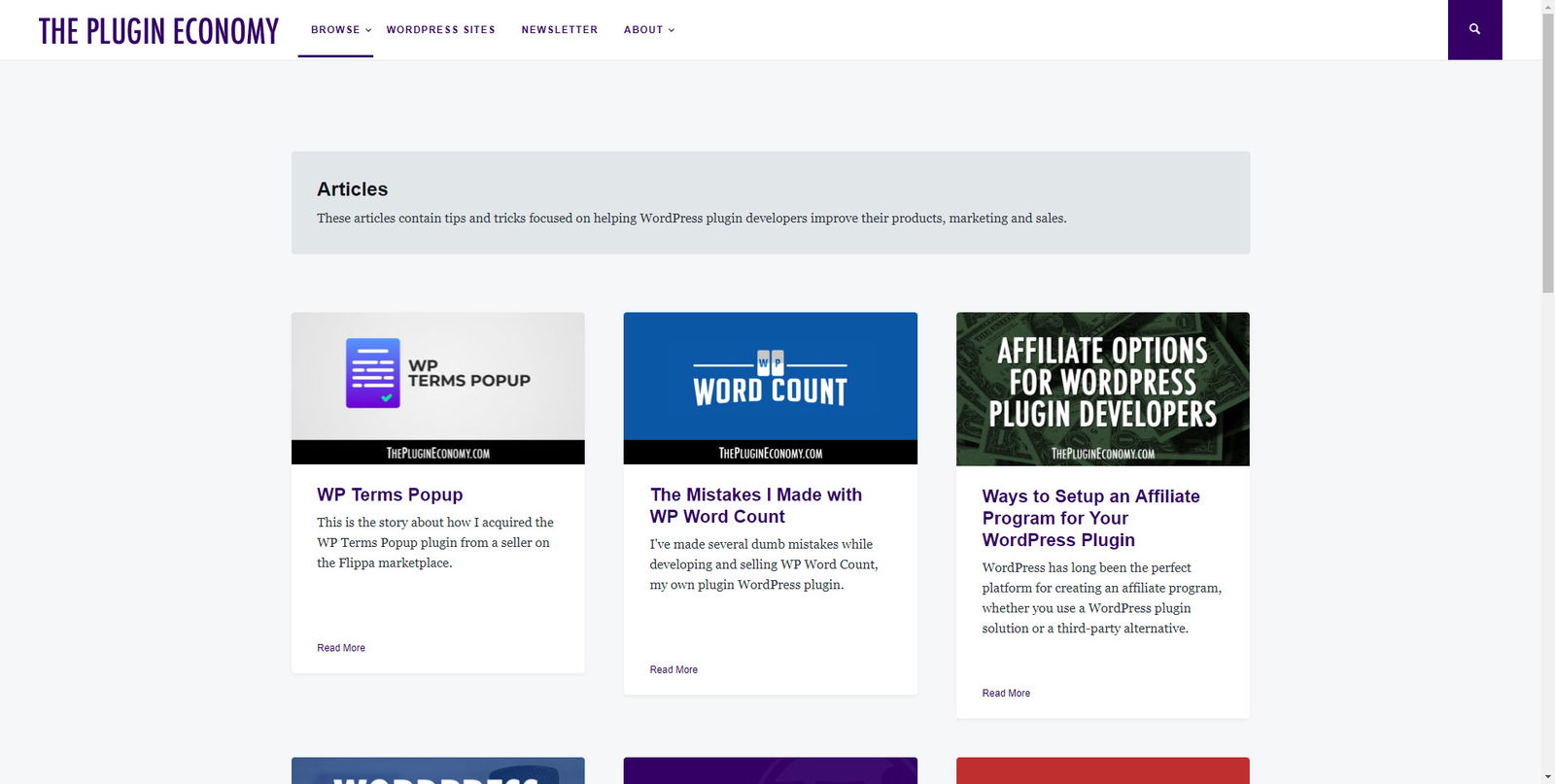 As the name suggests, The Plugin Economy is all about WordPress plugins. They also have an article section that offers developers tips and tricks on how to create and market their plugins.
The main area is full of developer interviews on a variety of different plugins. They are extremely useful and full of insights you might not be aware of if you just installed a plugin without this background info.
If you browse the article section, you might find it to be a bit heavy on the criticism. At least I did.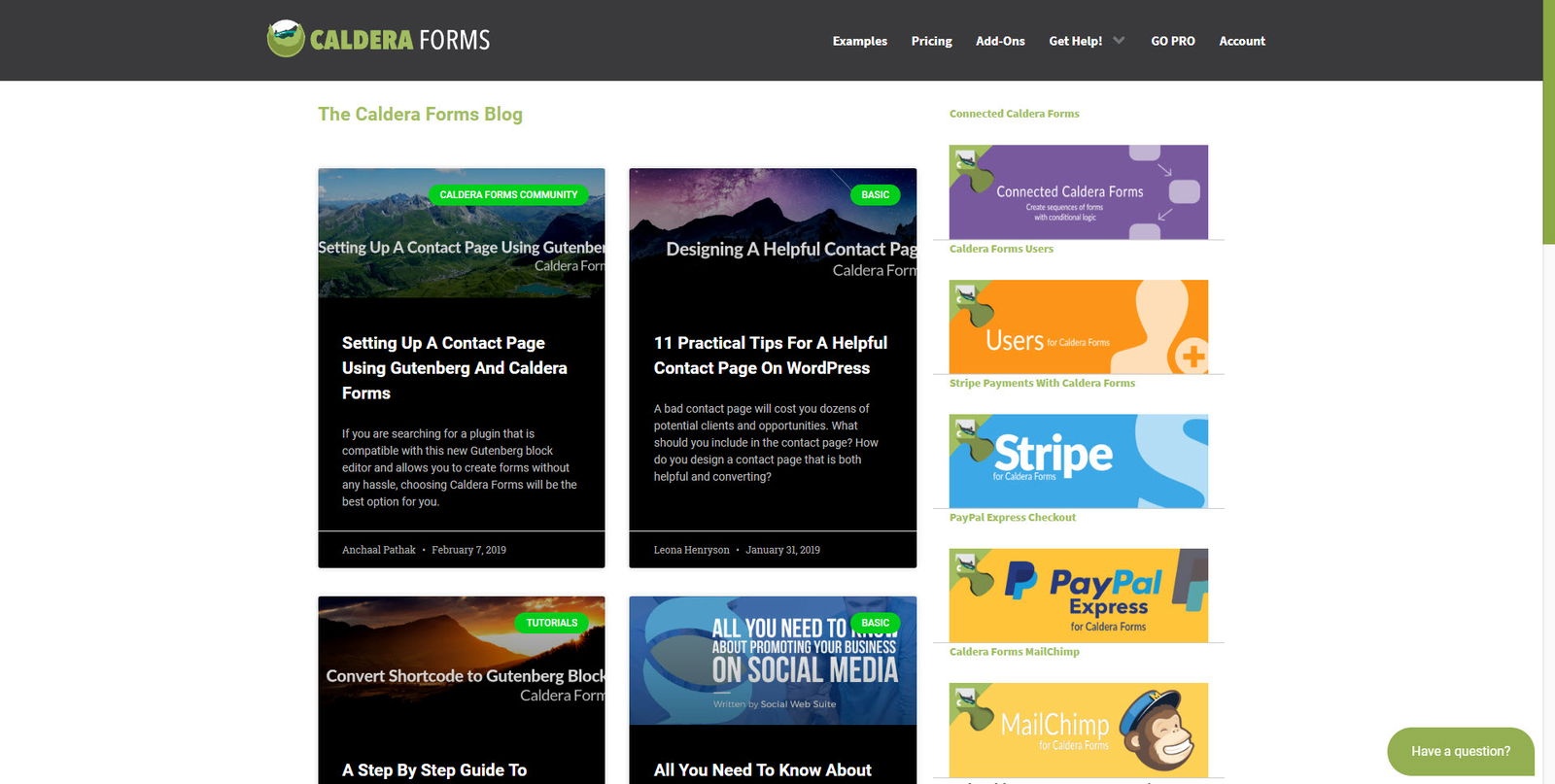 Caldera Forms is more than a form builder. They also provide a blog on all things WordPress, not just their own forms. Need to know how to promote your business, or how to wrap your head around Google Analytics? They have you covered.
If I had to pick one thing that I really liked about this blog, is that they let the reader know what level of expertise they need in order to follow the steps given. Posts are tagged as Basic right on the main blog page excerpt, so a reader knows what to expect before delving in further.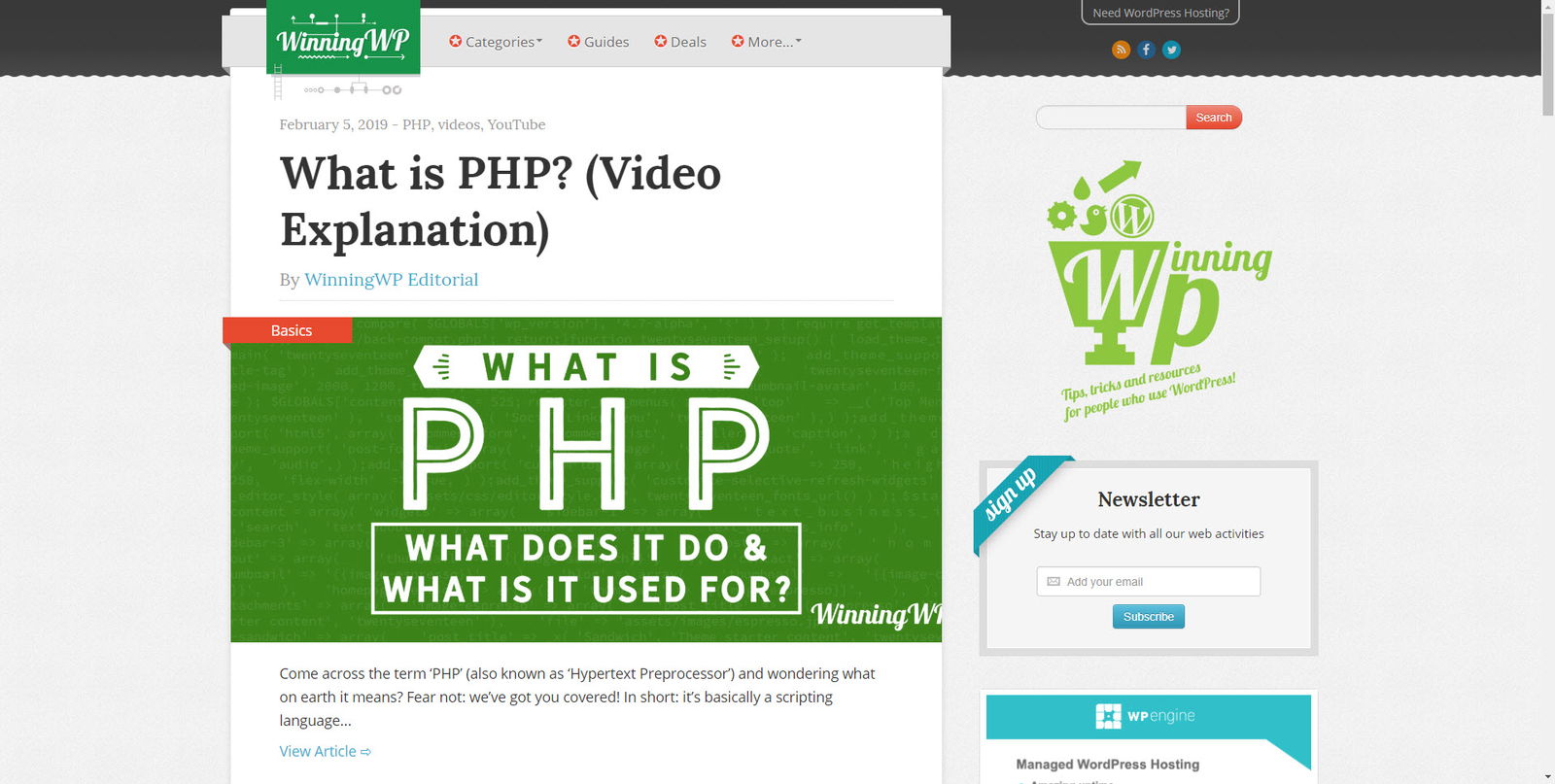 From the beginner to the more seasoned blogger, WinningWP has you covered. There are information and how-to guides on nearly every subject related to WordPress. It's all well categorized and easy to find. Lots of video tutorials as well.
Having said that, there's something about the site design that makes me feel anxious. I can't explain what it is, but landing on the home page makes me want to leave. But that's just me. Or maybe not?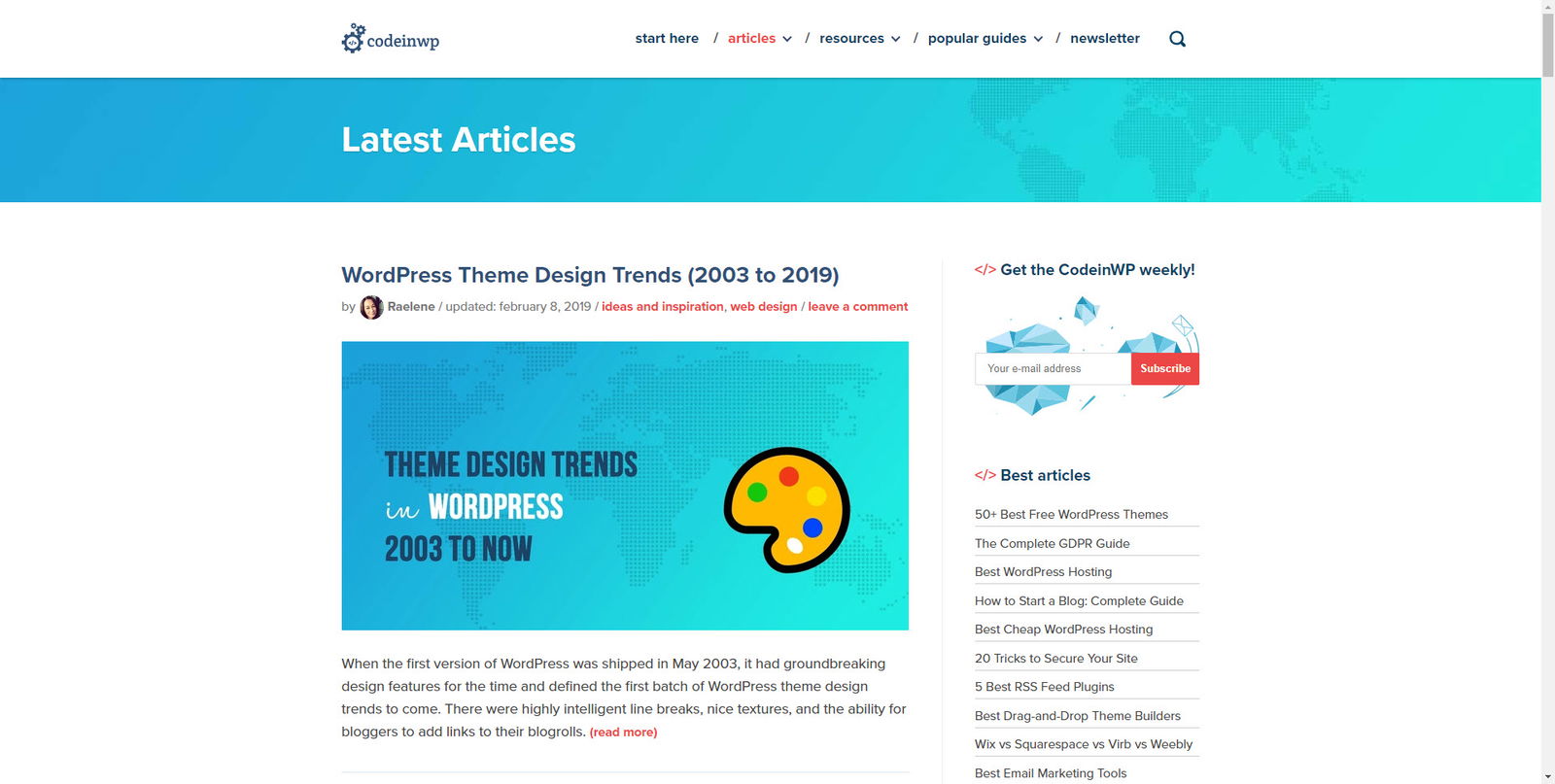 If you're looking for a full-featured blog with a bit of history, check out CodeinWP. They have a lot of insightful information on things like how to grow and market your audience, and much more.
The writing is engaging and fun, and the posts are littered with lots of visuals. In other words, they are a pleasure to read. Tutorials are well laid out and easy to follow and typically offer several methods.
For good reason, this is a popular WordPress blog.
This our own sweet little blog, we post regularly and we try to cover a wide range of the WordPress ecosystem. At the moment we have published posts about WordPress news and tutorials, WordPress Security and Interviews with people working and using WordPress.
One of our most popular WordPress security articles is our guide on how to identify and remove the Japanese keyword hack which shows you all the steps you need to follow in order to find if your WordPress is infected and how you can clean the hack yourself.
More security-related posts will follow in the upcoming weeks.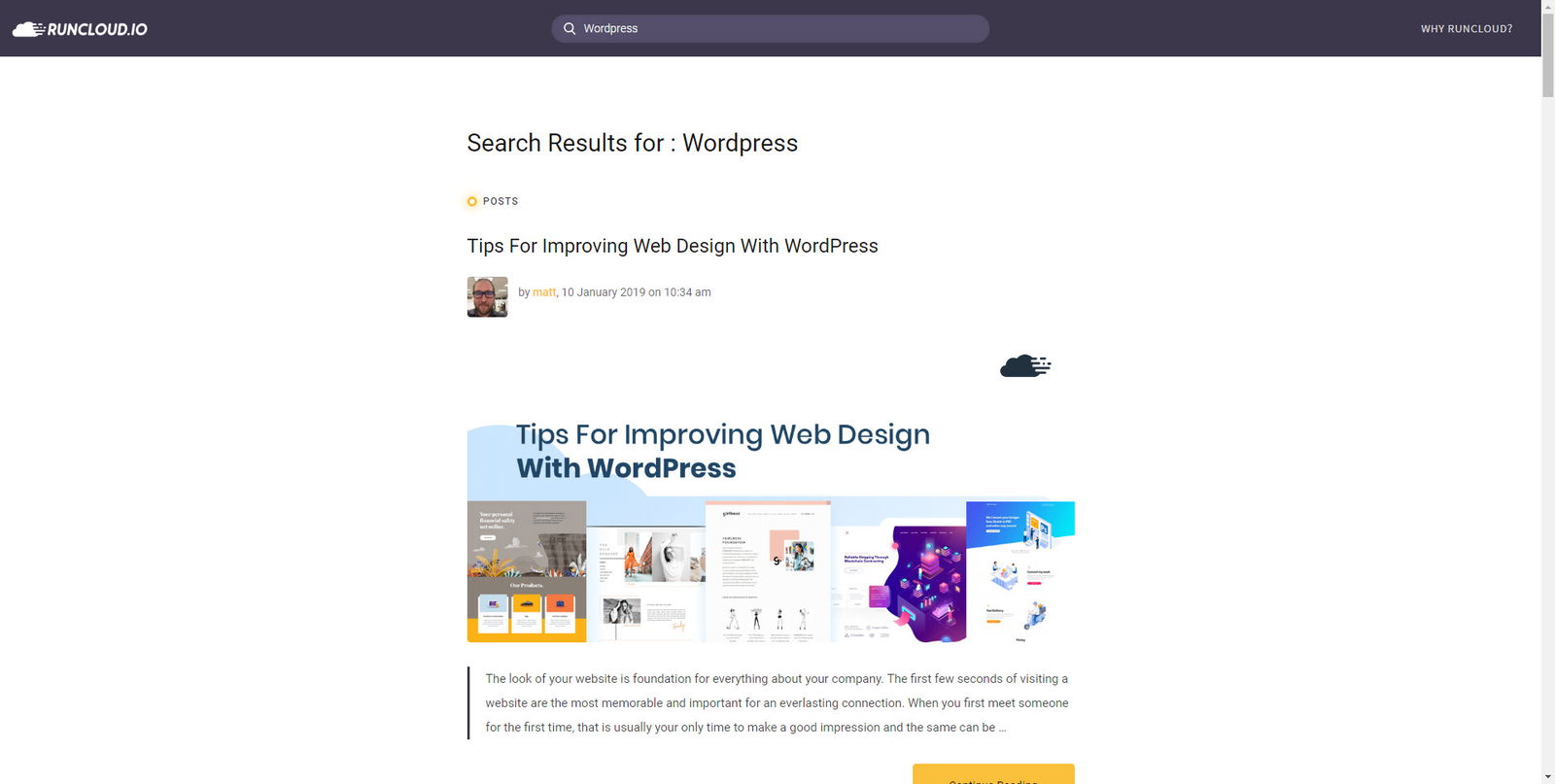 This isn't a dedicated WordPress blog. Instead, RunCloud offers a lot of useful information for anyone maintaining a website. Quite a few of the posts that are specific to WordPress deal with how it's used with the service RunCloud. For the sake of simplicity, RunCloud is a basic cPanel alternative, which is great for anyone that wants to move from traditional hosting to something like AWS Lightsail.
I highly recommend this blog even if WordPress is only minimally represented.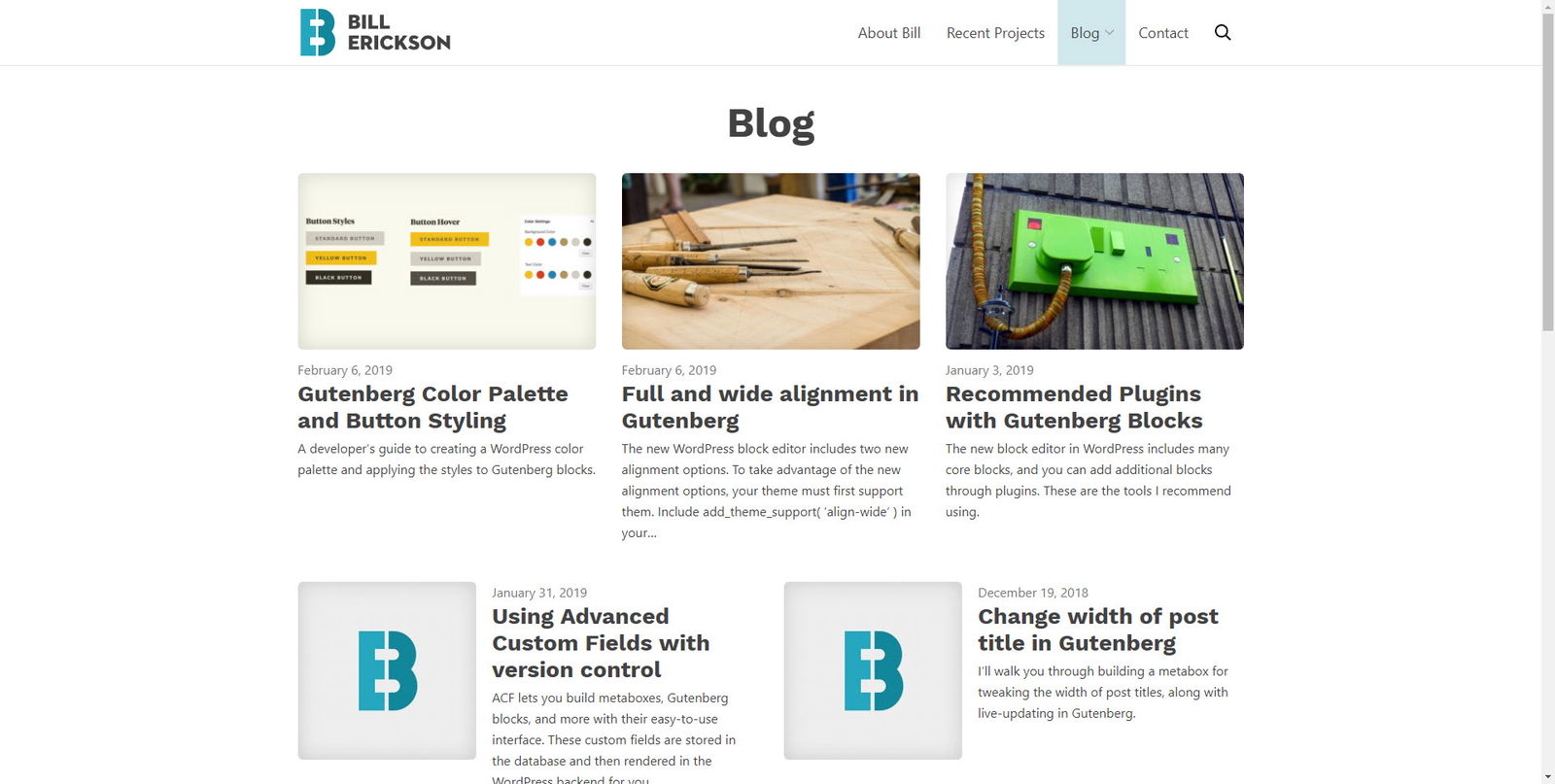 If you've ever Googled Genesis code snippets, you've likely stumbled across Bill Erickson's blog. Since I personally use the Genesis Framework, I'm thrilled with bloggers like Bill who freely share their expertise with the rest of us. Outside of Genesis, his blog also contains tutorials on general WordPress development.
Bill is an outstanding WordPress developer, and I have nothing but praise for this blog and highly recommend it.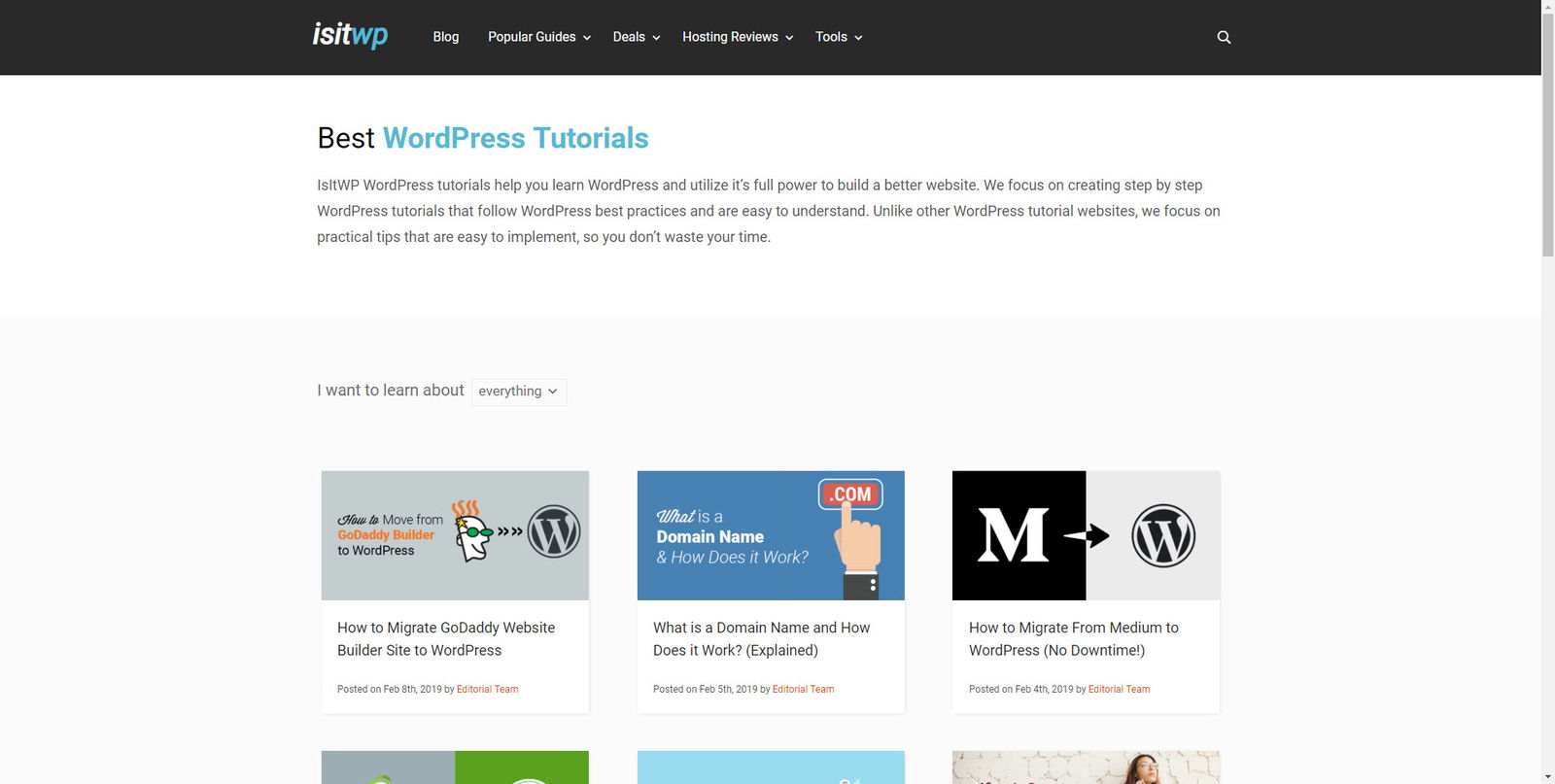 IsItWP is a well-rounded blog with something for everyone. If you're a beginner who needs to know how to create a WordPress page, there's something for you. If you're more advanced and debating lead generation tools, there's something for you too.
They also have some best of lists where they actually detail why things are in the list. As in they do some testing. I find this kind of proof offers credibility, don't you?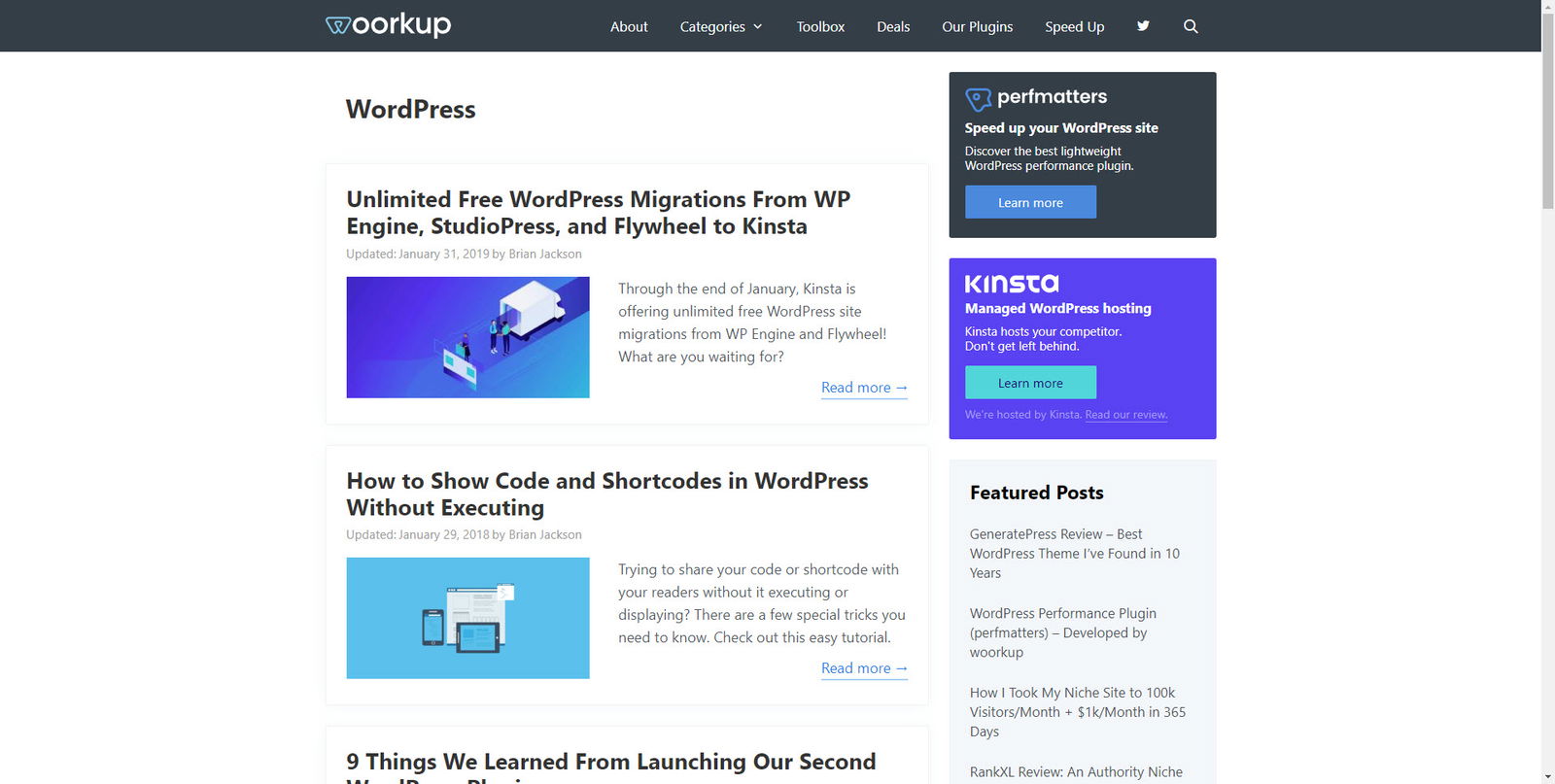 The guys behind Woorkup are Brian and Brett Jackson. If you're familiar with Kinsta, which has quickly become one of the best-managed WordPress hosts, Brian is their CMO. It's nice to see that despite this relationship, Kinsta reviews seem to remain objective. The blog covers several topics related to WordPress, including things like SEO.
They also have some excellent reviews on resources like Sitechecker, which will perform an SEO audit on your site. This is a great blog, well worth following.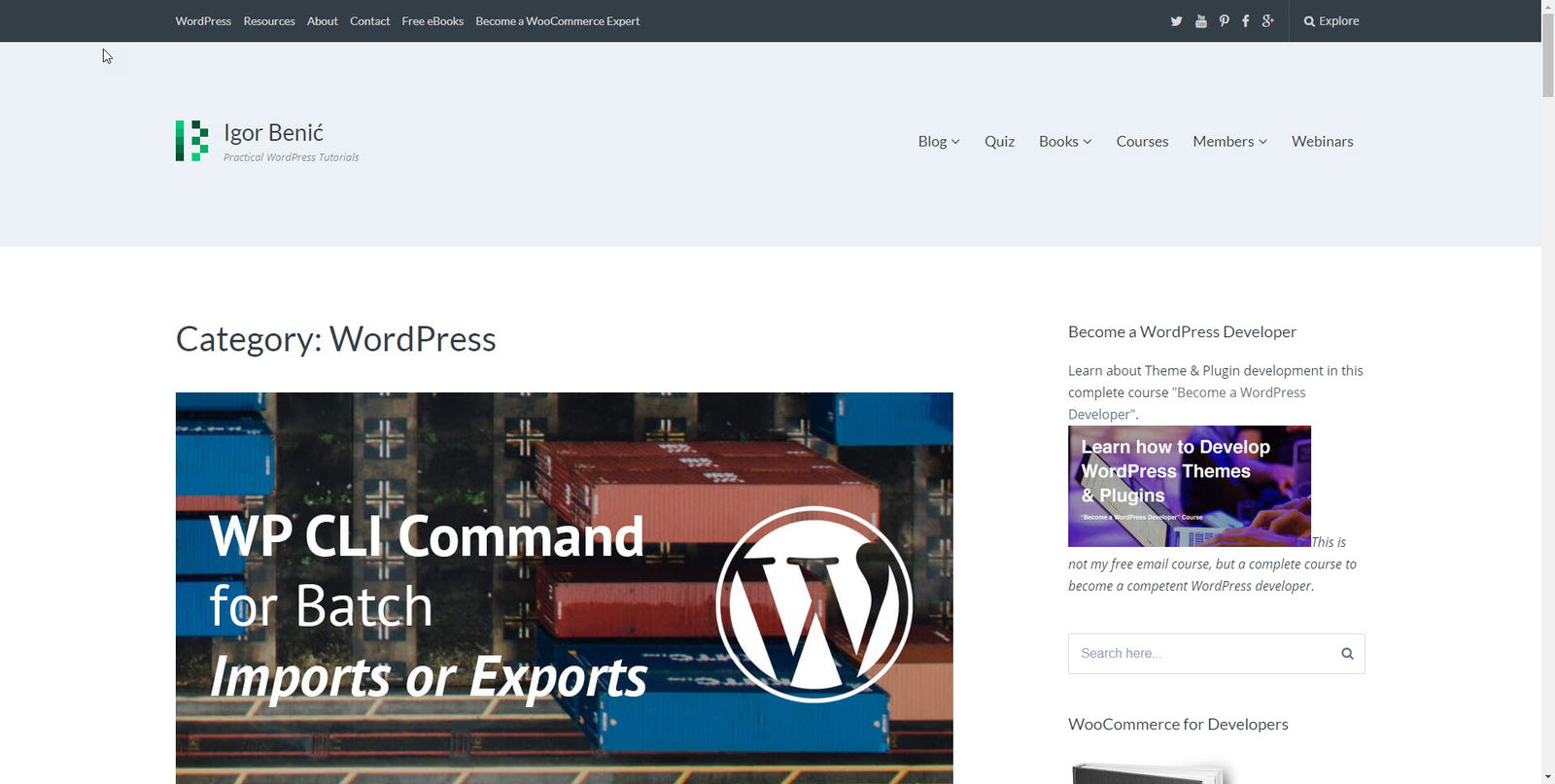 Igor Benić takes you well beyond the beginner's WordPress setup. If you need to migrate large databases or dig into the javascript, you'll likely find the info you need in his blog. Igor is also a WooCommerce expert, so if you have a store on your site, you might want to bookmark his blog for later reference.
I do recommend that anyone should check this site out, but it might be too much for a newbie to absorb, as it is a bit technical in some cases.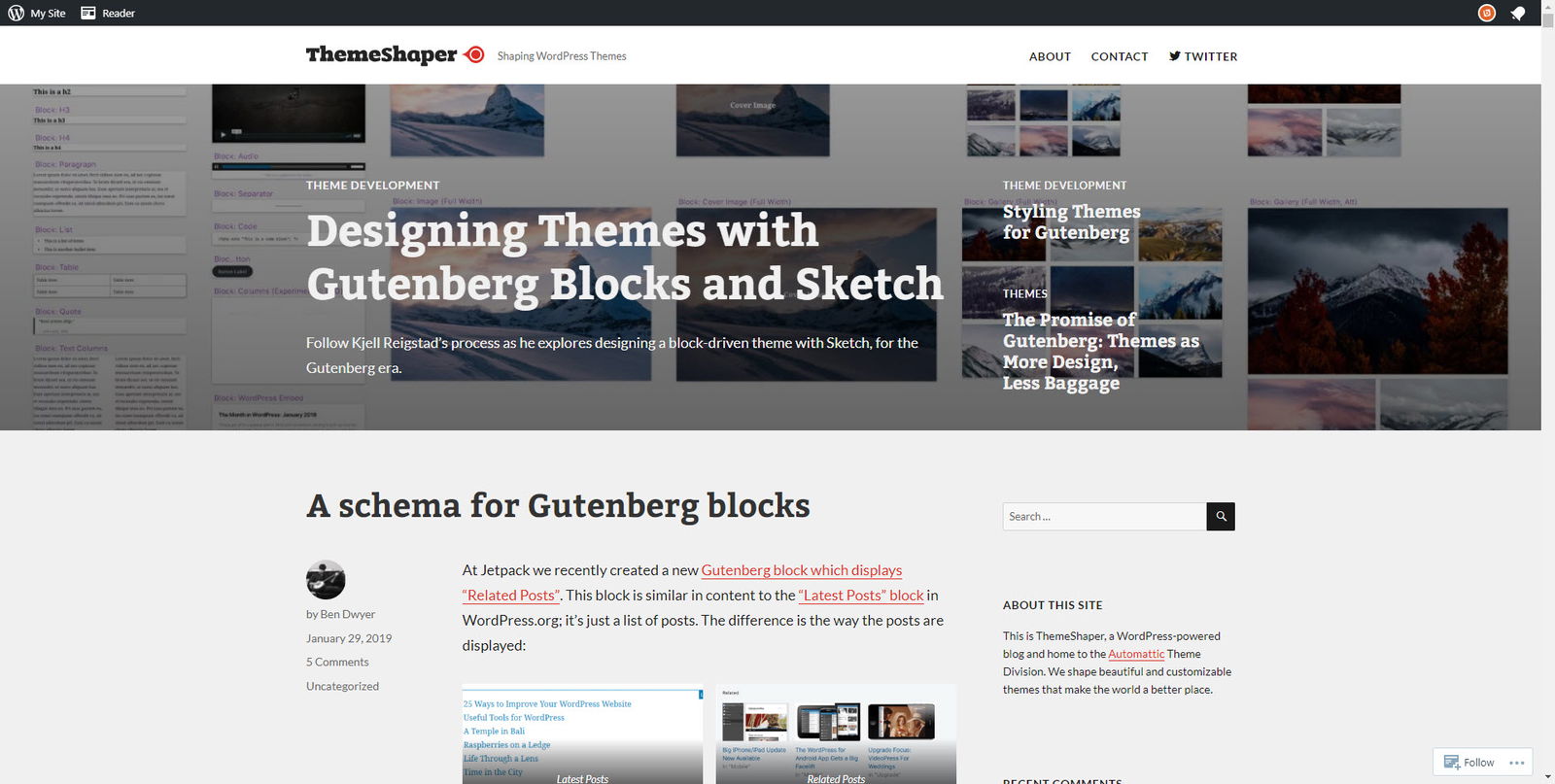 As the title suggests, ThemeShaper is all about themes. They are part of Automattic. If you've installed WordPress, you're familiar with Akismet, or maybe JetPack. Automattic is the company behind them as well.
They don't post a lot, less than once a month, but their posts are full of useful info. For example, all posts for the last 6 months or so share a ton of detail on the new WordPress editor, Gutenberg.
If you're hosted on WordPress.com or using WordPress self-hosted solution and want to get into the nitty-gritty of themes, this is a place to follow.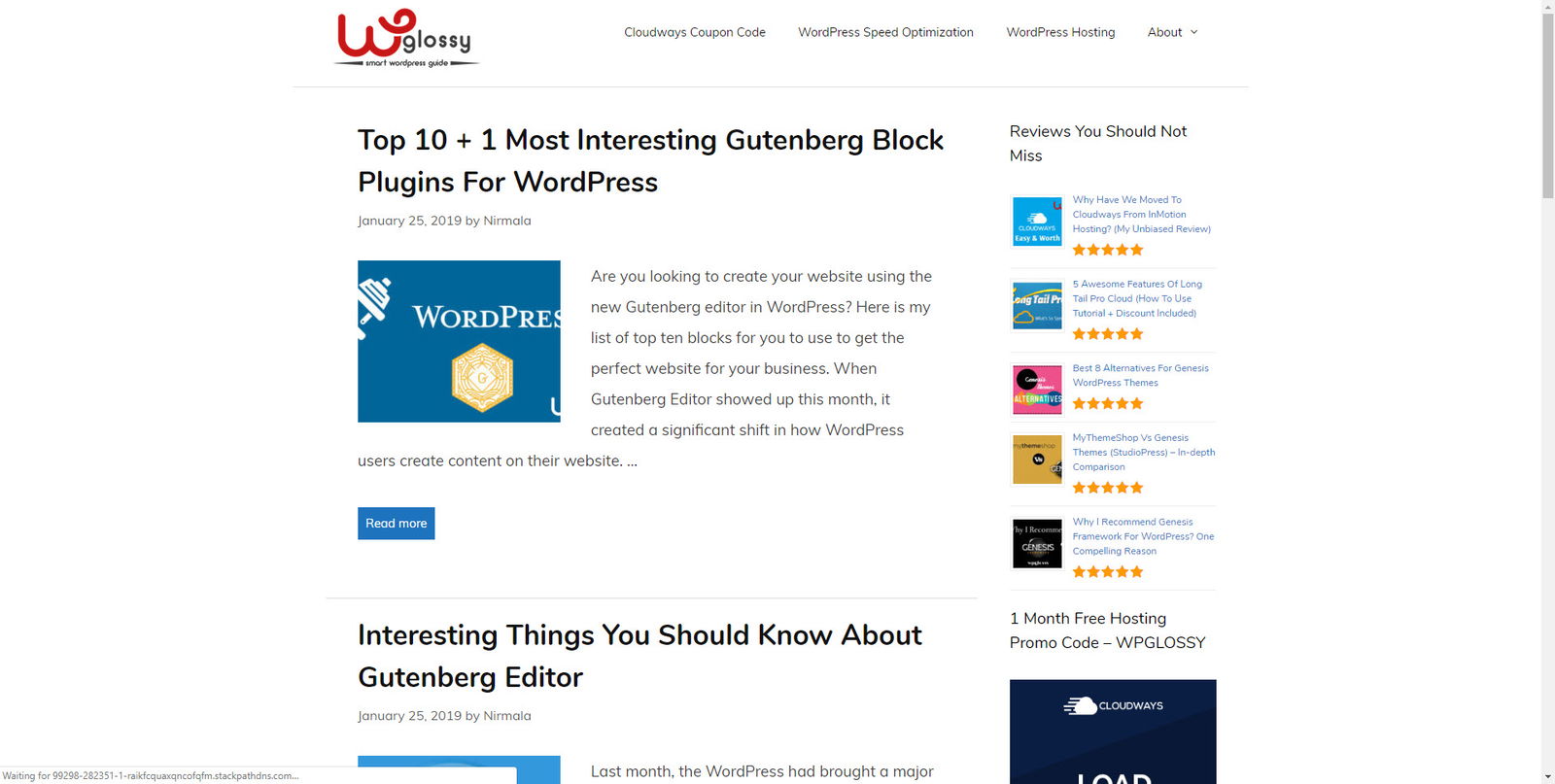 WPGlossy is a catchall of information on WordPress news, tips & tricks, plugins, themes, and more. It's a well-rounded blog with lots of useful information, but I would say it's target audience is the less sophisticated WordPress user. If you're a beginner and confused about things like what kind of hosting you should have or how to speed up your site, you'll find what you need here.
While it's clear that English isn't the first language of the writer's, their message is still understandable.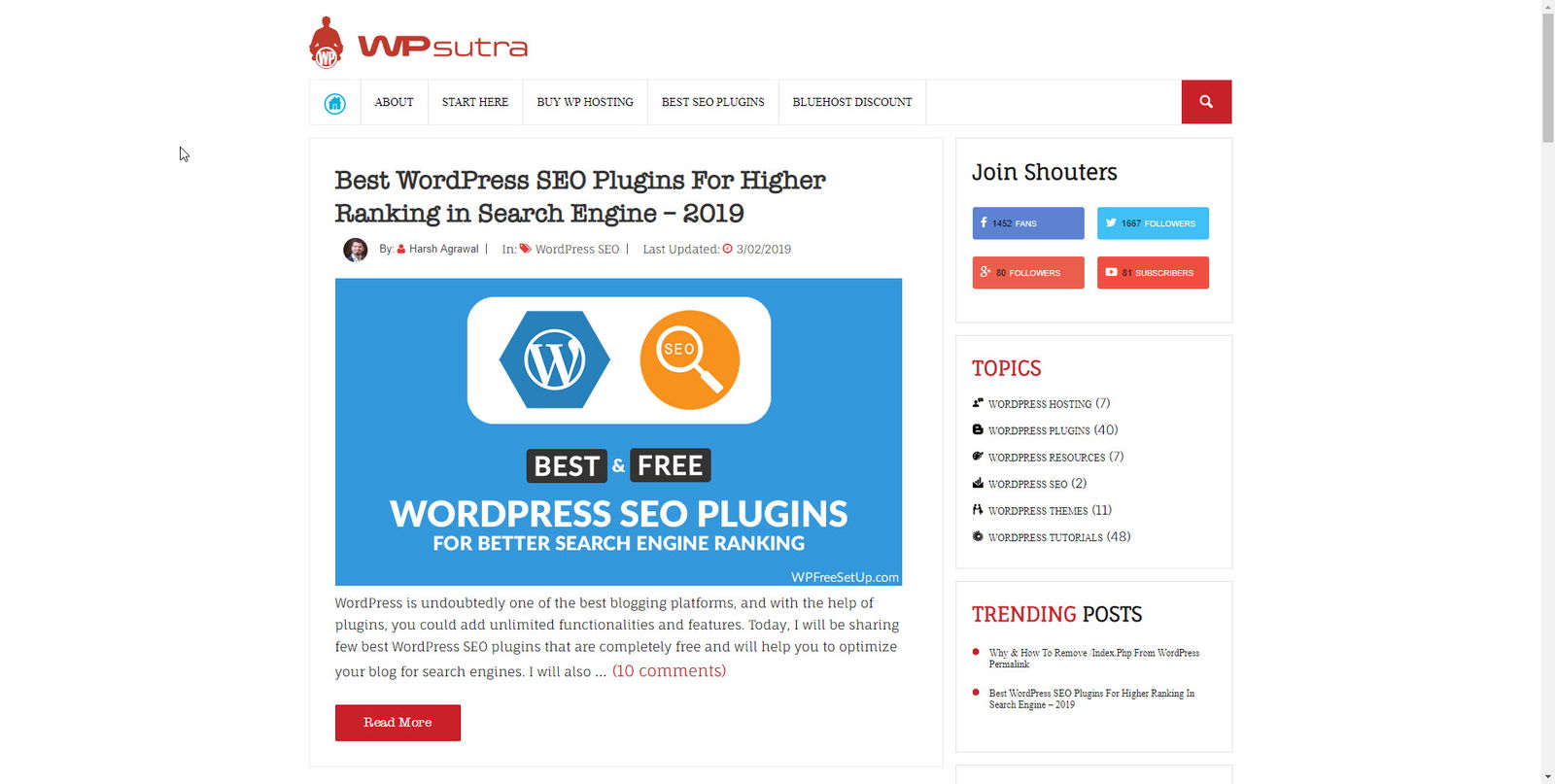 WPSutra. I admit I had to look up Sutra, and it loosely means "condensed manual or text." The blog has a relatively small following and is penned by the man behind ShoutMeLoud, Harsh Agrawal. Harsh has been blogging about internet marketing for more than a decade. When he realized the issues some of his students had with installing and setting up a WordPress site, he addressed a need with WPSutra.
With the above in mind, the content is focused on those new to WordPress. So it might be too simplistic for a long-time WordPress user.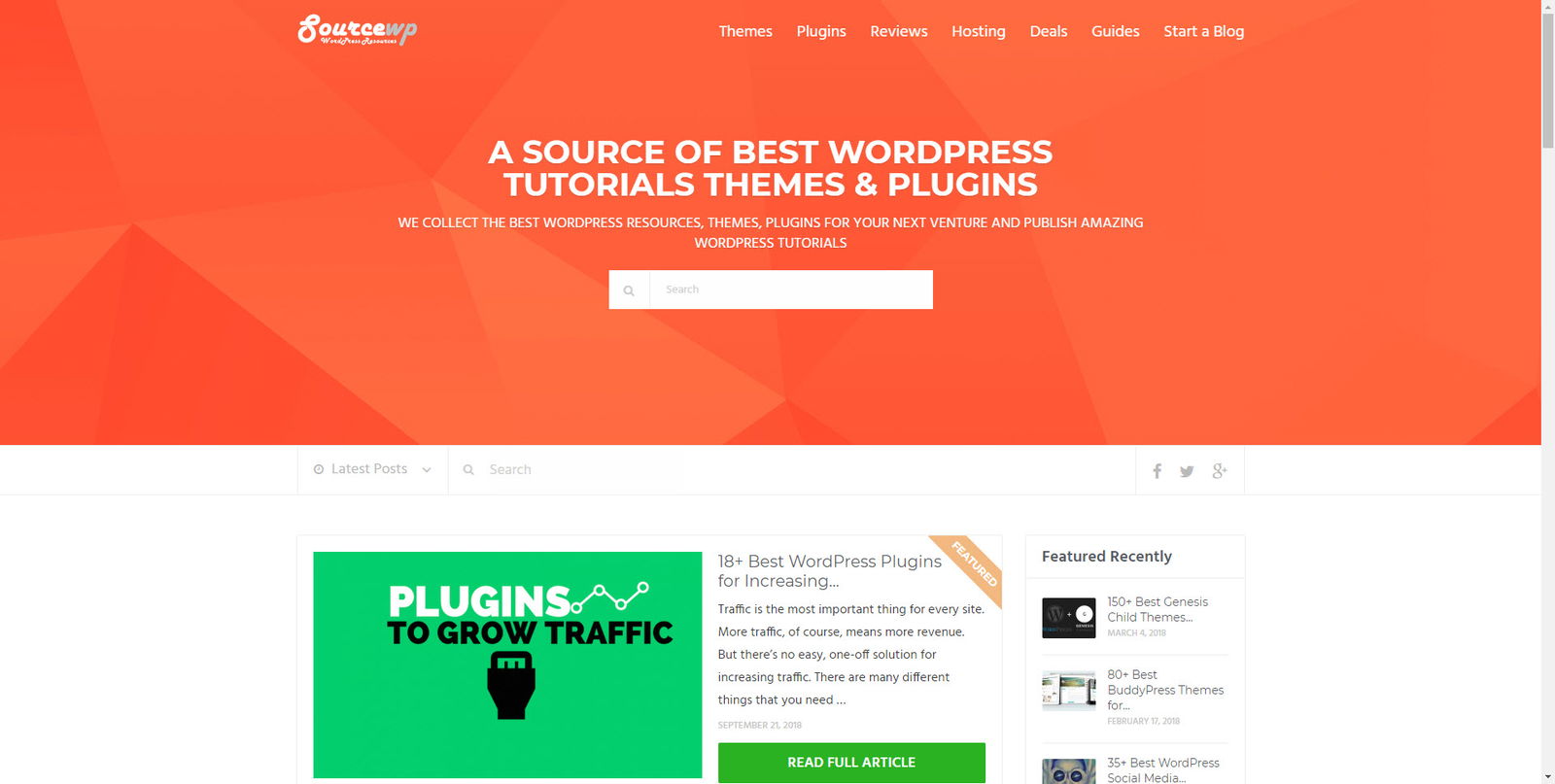 Looking for some excellent, in-depth reviews of a variety of WordPress plugins and themes? Be sure to check out SourceWP. You can also find the comparison and best of lists that offer some extra insight, not just the typical cut/paste of the developers feature list.
I like the fact that this blog is mindful that not all are WordPress experts. We all started somewhere and needed some guidance. A lot of blogs and this isn't a criticism against them as there is a place for everyone, are far too advanced for newbies.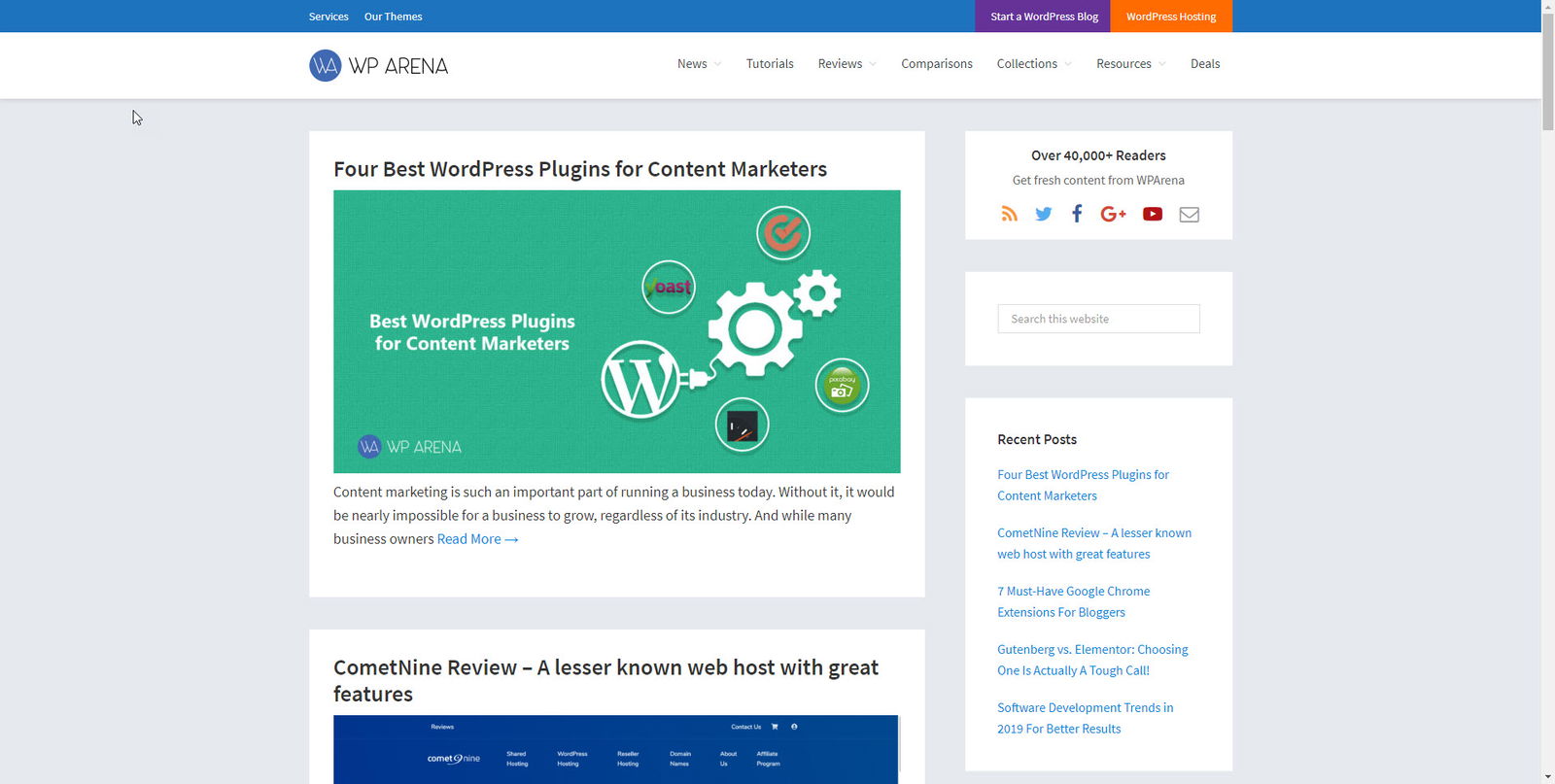 Tutorials, reviews, collections. WP Arena has them all. This blog is well thought out and well laid out. The tutorials are a wealth of information, not just your standard do A, B then C. Not to say those types of tutorials don't have a place, because they do. Sometimes less is more, but sometimes more is a bonus.
For example, one of the tutorials instructs on how to deal with WordPress errors. You're not just shown how to fix your error, but why it happened in the first place and how to avoid it in the future.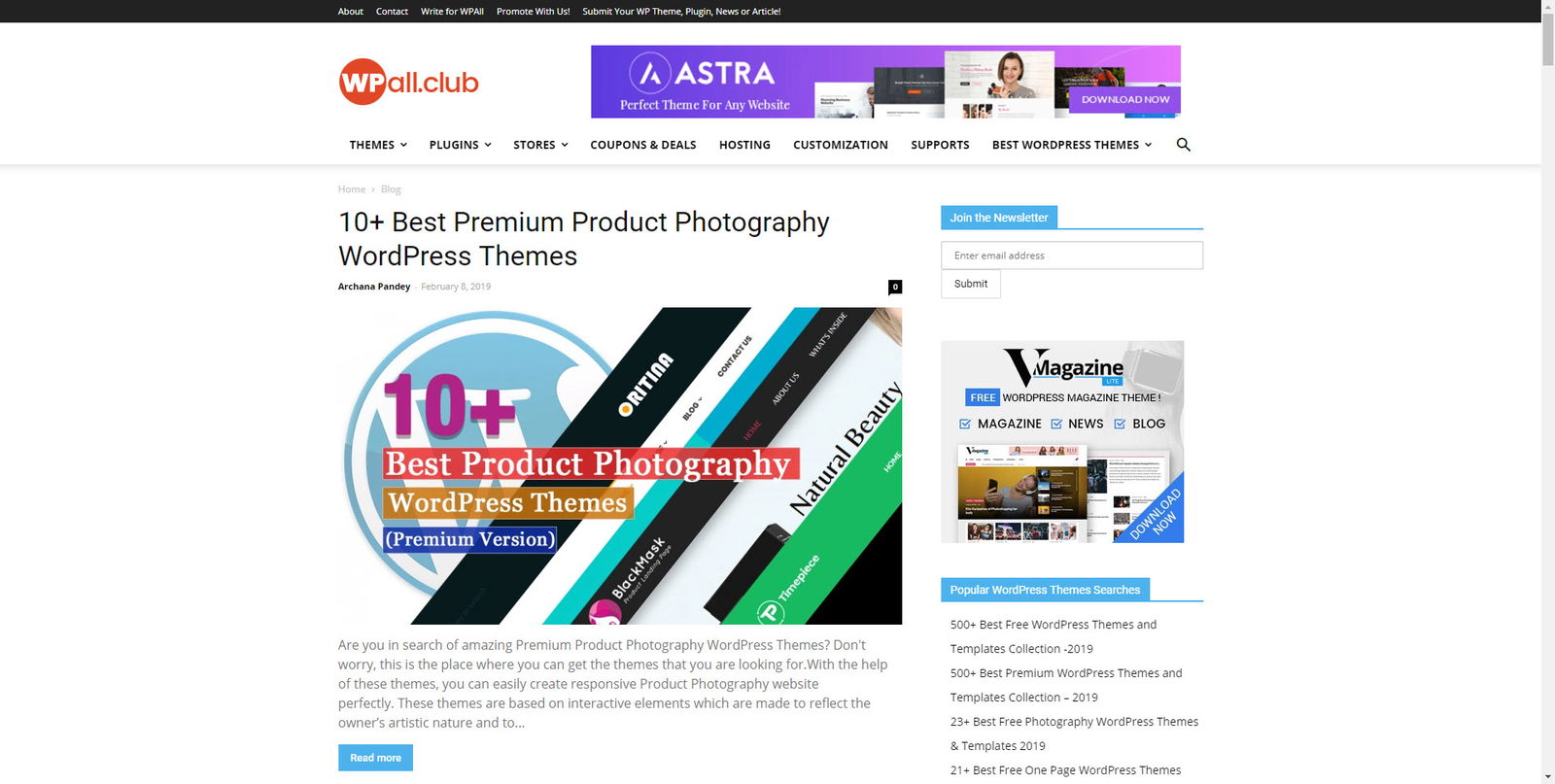 If you're more interested in lists than how-tos and tutorials, WPAll might be worth checking out. Especially if you're looking for a new theme. Things like the best free responsive themes or premium agency themes.
However, if you're looking for lists with a bit of meat to them, you'll need to look elsewhere. You're not getting any real insights into why these items are chosen as the best.
Personally? I would like the writers to share why they think items deserve to be in a "best of" the category.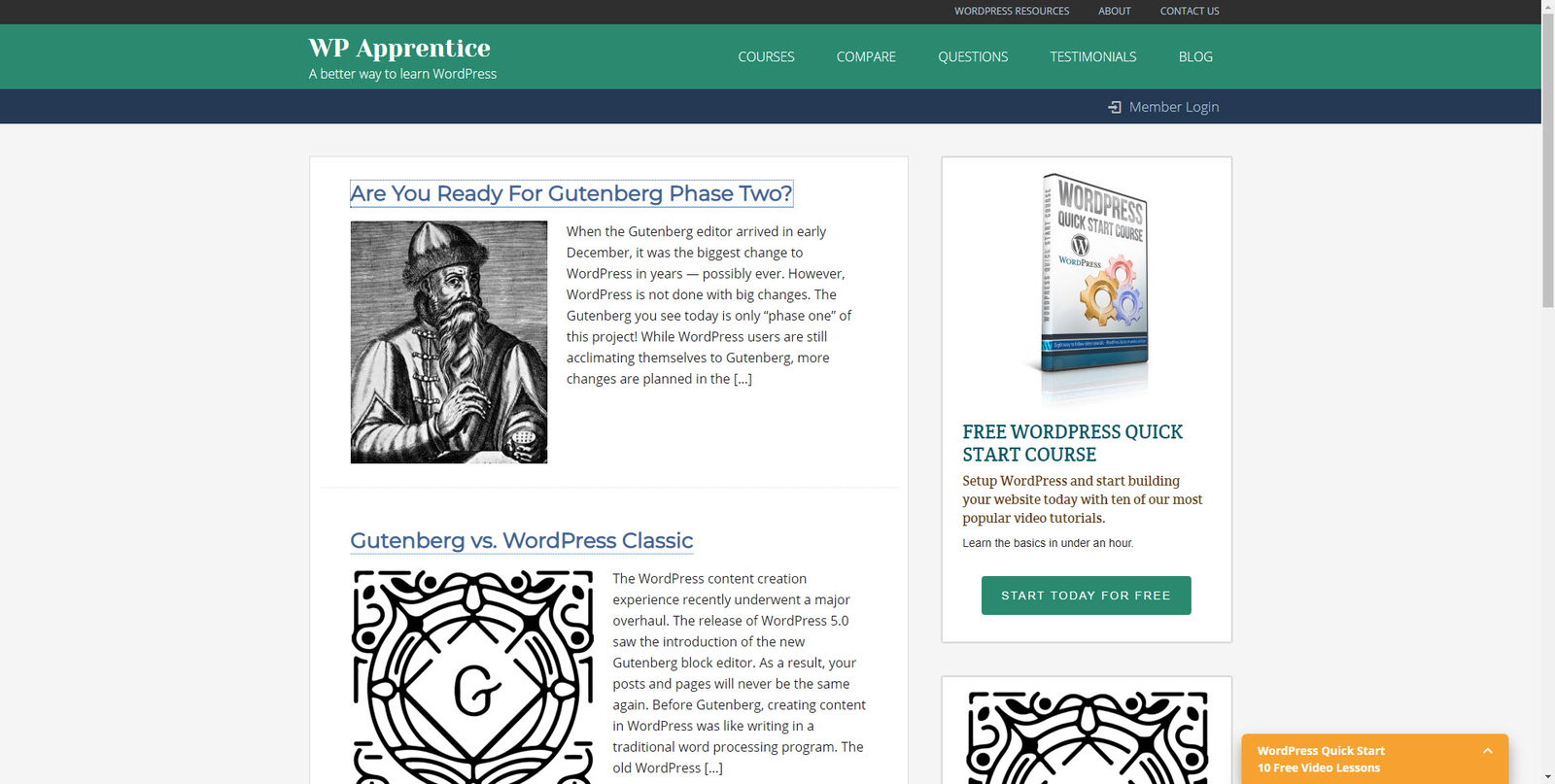 Whether you're a new or seasoned WordPress user, there's always something to learn or try. WP Apprentice is your answer. They offer courses in a one-stop-shop for all things WordPress.
Not interested in courses? A little too proactive for you? The WP Apprentice blog is full of answers and tutorials to specific issues. For example, if Gutenberg has you scratching your head or extremely upset like a lot of people seem to be, take a breath and check out some of the posts on Gutenberg.
This is an excellent blog, and I think it's going to become your go-to place whenever there's a WordPress update. All updates are covered in the blog!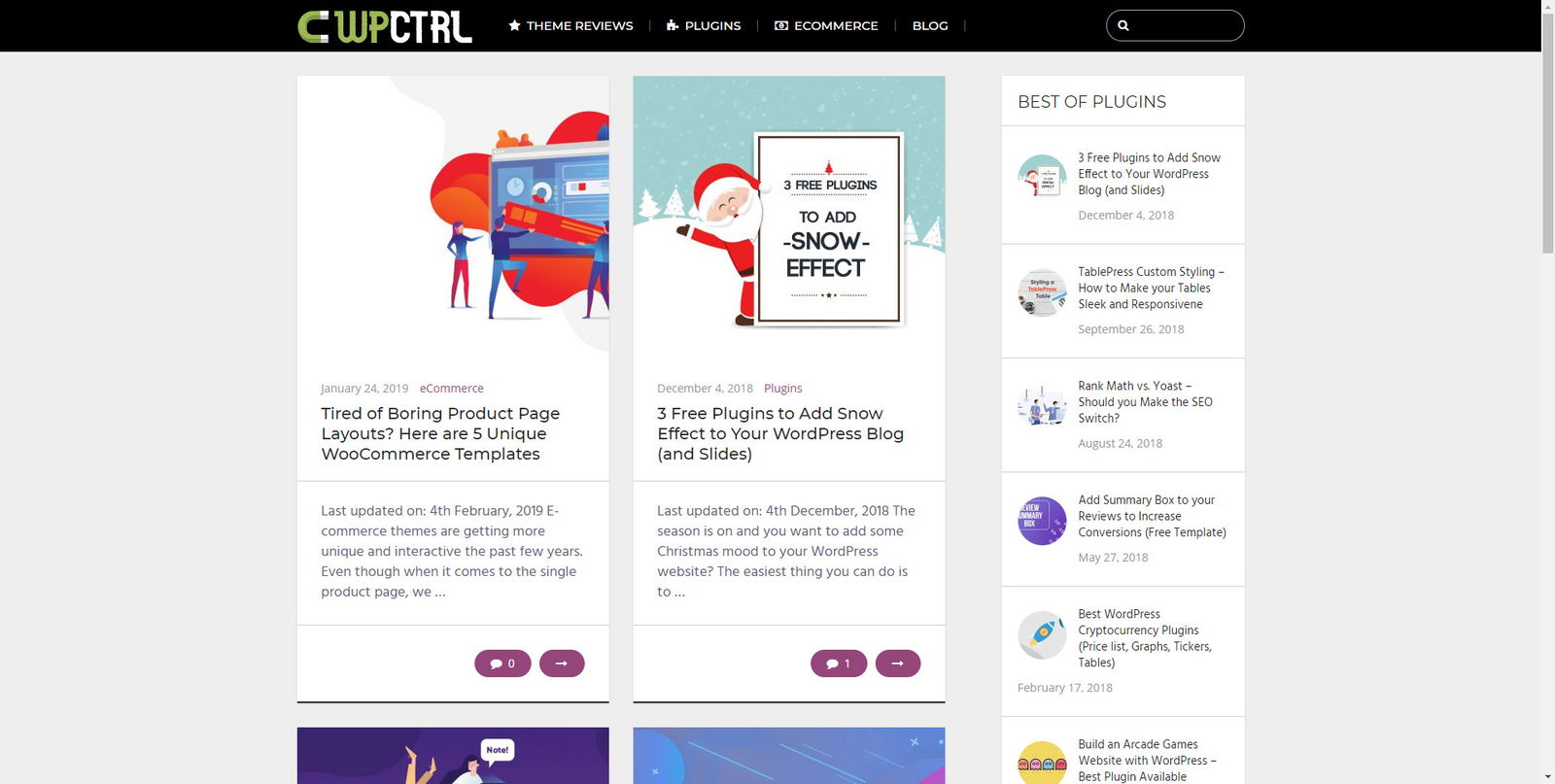 If you have a WooCommerce shop on your blog, you might want to check out some of the articles on WPCtrl. They have some nice, info-rich posts dealing with different WooCommerce how-to issues. Other than that, you'll find posts on themes and plugins, and again, they are well thought out and well-executed posts.
Unfortunately, the blog is a bit sparse. There aren't a lot of posts, but at least what is available has been kept up to date.
So there you have it. 20 not so random WordPress blogs that you may or may not want to follow, given your level of expertise or your area of interest.
As mentioned at the outset, there are countless WordPress blogs on the internet today, and the number continues to increase. Fortunately, for those just learning WordPress, and for the savvy, longtime WordPress user, there is a resource that will suit your needs.
Featured Photo by NeONBRAND